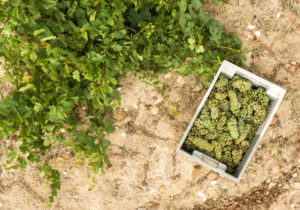 As always, in the field, the look to the sky is unavoidable… If one eye looks to the heights, the other focuses on the soils, clusters, calicatas, foliage masses, entomofauna… the environment and the landscape, everything that makes up our terroir and that we must methodically take into account. That look that makes us interpret the vintages, anticipate when necessary or adapt if the vineyard requires it, is the same that we had in 2014 and that made us look with surprise at one of our oldest vineyard plots to see that it was infected with noble rot or Botrytis cinerea.
Green grape with Botrytis
The first reaction of surprise was followed by another of many questions. This particularity is highly infrequent in these lands of Segovia and, for this, there must be special conditions of humidity, followed by others of very specific dryness. These conditions favor the appearance of the fungus, which absorbs water from the berries to concentrate their sugars and minerals, among other compounds.
In doing so, the acidity is also maintained and the raw material acquires an unusual complexity. We were able to verify this during the sampling of that vintage. With all these doubts on the table, many paths were open to us. However, the decision we made was to let nature act, following our philosophy of minimal intervention and maximum respect for the environment. Thus, we began the 2014 harvest as normal, but with the memory of that small plot still present.
Two Winters
At the end of the harvest we returned to the plot with Botrytis and saw that this gift of nature deserved to be elaborated.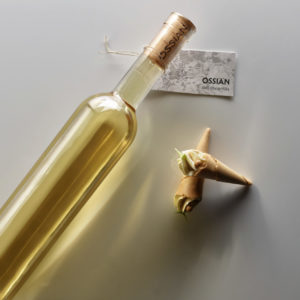 Something told us that this special little plot, which was affected by the weather conditions in a unique way, deserved to be bottled. Fate and conditions allied with us to offer us something unique and we did not let the occasion pass us by. Thus, we made our 'Dos Inviernos' and left it in the bottle in a small corner of our cellar.
Five years later we tasted this wine again and found it to be something fascinating: an exciting balance between acidity, complexity, intensity and sweetness. Something out of the ordinary, genuine and particular that we had never encountered before. Something that speaks to us about the incredible versatility and adaptability of Segovian Verdejo… that continues to surprise us.
However, at that moment a new doubt arose: What to do with it? There are only a few bottles and we wanted to give it a special value. It is more than likely that nature will not offer us moments like this again, so we wanted to keep it, to retain it, to give it a unique value.
After much discussion and debate we found the perfect place for this wine: Ambivium Restaurant. Is there a better place?  A place where wine is the protagonist of a story that draws memories and unique sensations. A place where wine is the very thread of those stories and whose diners we know they will appreciate. We are certain that our colleagues at Ambivium will preserve our 'Dos Inviernos' with as much care as we have done and will know how to appreciate this exceptional and surely unrepeatable wine.